When used to store or heat food, plastic leaches toxins into the food which is later consumed by us. There are many studies that have proven that BPA (a common chemical in many plastics) causes a variety of health issues for those who consume food products that have come in contact with it. (1) They're terrible to our health and terrible to the environment as well.
Therefore, beeswax wraps are a safe and effective alternative to plastic wraps and plastic containers (though, they do come with limitations. For instance, the inability to contain liquids). They are beautiful, functional, reusable, economical and eco-friendly. They are multipurpose and best of all, they're incredibly easy to make too!
*If you'd like to know all about beeswax wraps, do check out this super informative post by Cerawrap!
For this post, we will be sharing two different ways you can make your own beeswax wrap. You can find our own personal favourite recipe by clicking here!
1. Using Beeswax Only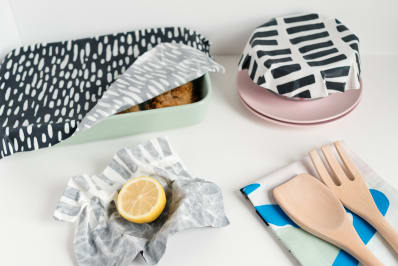 (Image credit: Amelia Lawrence/Apartment Therapy)
In this tutorial by Apartment Therapy, you'll be able to make your own reusable beeswax wraps with only beeswax as the main ingredient.
Materials and Tools Needed:
– Fabric (cotton fabric would be great!)
– Parchment Paper
– Baking Sheet
– Scissors (optional)
– Brush
---
2. Using Beeswax, Pine Rosin and Jojoba Oil
Materials and Tools Needed:
– Fabric (cotton fabric would be great!)
– Brush
– Baking Sheet
– Scissors (optional)
References: